Metal Tube Railing Solutions
Where do you want it to go? How would like to see it mounted? What's your desired finish? Our ARS division team provides a multitude of answers for each of these basic questions. Tube Rails come in a variety of shapes, sizes and forms with more kits than any other rail out there. Yet, this is about more than kits. It's about a higher level of experience, skill and dedication to make it look just right.
Using a kit as the primary system component, allowing for custom or accent pieces to match is one of many advantages we offer. Like all of our product lines, we specialize in custom application and take care of the bread and butter cost effectively. We're more than artists and craftsmen. We're business people who satisfy real business needs.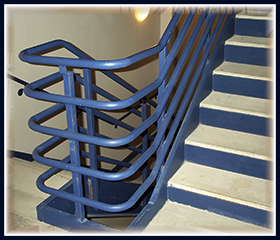 Click here
or call 1-800-459-5161 for a consultation, quote or to start a project. Architectural Railings Solutions is one of four
Raydeo
divisions. We also offer divisions focused on Awnings, Signage and Millwork, which you'll find throughout our website.